Explore tankless water heater info below
Tankless Water Heater Guide
There's a variety of factors that should be consider before purchasing a tankless water heater and it's important to choose a system that is right for your usage. We've created this simple guide to address some of the more important questions surrounding on demand water heating and we hope it will help you make a more informed purchase. However, when it comes to installation we strongly recommend consulting a professional contractor or technician.
General Information
Tank vs. Tankless - Main Differences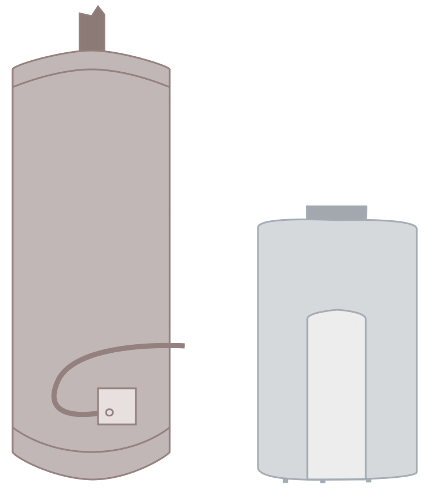 Tanked
Large & Bulky
Stores water until use is required
Shorter life span
For large households - hot water can be an issue
$ Cheaper initial purchase
Tankless
Most tankless units are the size of a suitcase or smaller
Uses water as needed (on demand)
Longer life span
Instant hot water
$$$ Higher upfront costs
Lower energy use - reduces monthly energy bill
Types of Tankless Water Heaters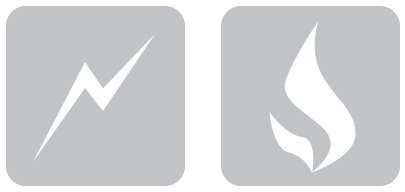 Electric
Easier to install
Doesn't require ventilation or AL29-4C pipe
Useage can cost more depending on energy prices
For large households - hot water can be an issue
Requires less maintenance
Extremely energy efficient
Flow rates - up to 8GPM
Gas
Requires complex venting and combustion requirements
Requires annual maintenance
Flow rates compareable to electric - 8 GPM
Instant hot water
$$$ Higher installation costs
What is the best tankless water heater?
There is no real good answer for this question since we do not have substantial evidence from our customers saying which one is the "best". It all depends on customer experience, type of tankless water heater and their issues (if any) over time. So this one is tough to answer. Our top selling tankless brands are by far Rinnai and Takagi. But we also feature Eemax, Noritz, Rheem, Stiebel Eltron, and Eccotemp.
What is the most efficient tankless water heater?
Pretty much all tankless water heaters have increased efficiency to meet certain federal energy standards. All are efficient because they offer on demand hot water so there is nothing running all day (like a tank water heater). However, electric models tend to have the highest energy efficient ratings (no gas emissions - no venting required or carbon monoxide danger).
How much will tankless cost?
Costs will vary depending on brand, size, and installation type - consider the following:
Will generally cost 2-2.5 times what a standard water heater will cost
Initial costs are higher but long term will save you money
Potential to save 30-50% on energy costs when compared to standard tank installations
Smaller units cost typically under $500 but will not necessarily produce enough hot water to heat a whole house
Larger tankless units will typically be around $1000 and can last up to 20yrs when compared to a standard tank which will only last around 10-12 yrs
There are typically rebates, tax credits & buying incentives (coupons) - $300 federal tax credit (external link) for rinnai products.
Why you'll want a professional contractor - estimated installation costs:
Gas tankless water heaters need special venting/piping for their high powered burners
You are required to meet building codes. Violations will ultimately cost you more money down the road
Contractor installations could run up to $1000 (ALWAYS get a quote)
Electric units will typically have lower installation costs since there is no venting required (you should still consult a professional)
Buying Considerations
Fuel Type
You should first consider which option will be best suited for your home and geographic location. For instance, if you live in an area where natural gas is cheaper than electricity - a gas fired tankless water heater might be better suited for you. Keep in mind that gas is a depreciable resource and it's costs could surpass electricity over time.
Location
At this point you should make a list of the number of fixtures that will require hot water (write them down). Ask yourself, where do I need hot water? Is it a single point? Whole house? Or, commercial? Determining your use will further help your purchasing decision.
Size & Demand
Lastly, you'll want to get an idea of how much water is required to meet your needs - also known as flow rate. Use the chart below to add up your flow rates (demand).
As an example, if you had 2 bathrooms, 1 kitchen, and 1 laundry washer (standard fixtures) you would want to estimate the possible high usage and low usage levels. High usage could be: shower+shower+laundry washer+dishwasher = ~11gpm (consider that most appliances/showers use a mixture of hot and cold water; 12gpm would be at 100% hot water). Low usage could be: shower+kitchen faucet = ~3.5gpm. So an estimate demand range could be ~3.5gpm to ~11gpm.
Additionally, if your business or household requires an excessive amount of hot water you might consider purchasing two (or more) tankless units (they can be combined together to increase hot water output). Keep in mind that "average household" requires a 4-7gpm tankless unit (with 4gpm being conservative use & 7gpm being heavy use; every home is different).
Typical Flow Rates in Gallons per Minute (gpm)
Fixture Type
Bathroom Faucet
Bathtub
Shower
Kitchen Faucet
Laundry Washer
Dishwasher
Flow Rates
1.0
2.0 – 4.0
1.5 – 3.0
1.0 – 1.5
2.0 – 3.0
1.0 – 2.0
External Resources
For your convenience, we've included the following links for anyone seeking additional information: